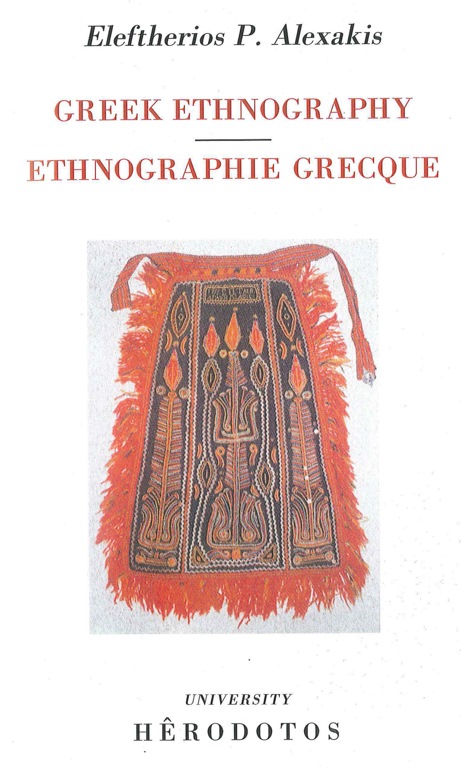 GREEK ETHNOGRAPHY / ETHNOGRAPHIE GRECQUE
Eleftherios P. Alexakis
ISBN 978-960-485-198-0
The book discusses the presence of the multinuclear family (vertical/ horizontal) in Greece, as well as of patrilineal kinship groups (clans and lineages). Examined too are strategies of property transfer in re¬lation to name-giving in the Aegean islands and specifically on Kea (Cyclades). Presented and interpreted is the marriage strategy for the preservation of the patrilineal group by talcing on a «secondary wife» for child-bearing, mainly for male offspring, as well as the so¬cial status of the female in relation to the discourse on an islet off the coast of the Laconian Gulf, Elaphonisos, with reference to the so- called «sdent groups». Marriage provisions, particularly those addressed to the bride or to her parents, such as the «counter dowry» and «bridewealth», are investigated too. The local community is also appraised in relation to the religious feast (dance, etc.), celebrated annually in honour of the patron saint, which reinforces the cohesion of the members of the community at symbolic and actual level.
Eleftherios P. Alexakis originates from Laconia. He studied History and Archaeol¬ogy at the University of Athens (1962-1967) and Ethnology and Social Anthropolo¬gy at the Universite Libre de Bruxelles (1968-1970). He took his doctorate at the University of Ioannina (1980). He was Director of Research at the Research Centre for Greek Folklore of the Academy of Athens. His chief interests are the Greek kin¬ship system and the Ethnology and Ethno-History of the peoples of the Balkans and Caucasus. He has served as President of the Hellenic Ethnological Society several times, which post he currently holds. He has taught as Visiting Professor in the Democritus University of Thrace (1996- 1997) and courses for post-graduate students of Folklore at the Uni¬versity of Athens (1999-2000). His main publications are: Bride¬wealth. Contribution to nuptial institutions in Modern Greece (1984) (in Greek); The Flag at the Wedding. Ritual - Diffusion - Origin (1990) (in Greek); The Children of Silence. Family, kinship and marriage among the Arvanites of Southeast Attica - Lavriotiki (1850-1940) (1996) (in Greek); Die Kinder des Schweigens. Familie, Verwandschaft undHeirat bei den Arvaniten im siidostlichen Attika (1850-1940) (2008). Mani. Clans and fam¬ily (1980, 21998); Identities and Alterities. Symbols, kinship, community in Greece and the Balkans (2001, 22006) (in Greek); The Vlaclis of Metzitie and the Irony of History. An ethnography of the unpredictable (2009); Family, Kinship and Mar¬riage in Modern Greece. An ethno-sociological approach (2014) (in Greek); Folklore or Anthropology at Home. Issues of method and theory (2015) (in Greek).
EDITIONS HERODOTOS
9, rue Mantzarou
GR 10672 Athenes
tel.: 21 03 62 63 48 \ mob.Q 69 76 33 44 93